I can honestly say I never had a Thanksgiving like I did this year....

For my whole life, holidays have meant traveling. And far places too. At least over an hour as a kid, twice in one day. And now that I live about an hour and a half from either parent, it means more traveling on holidays. Well, this year, on the actual holiday, we traveled exactly 1 mile to Kenny's parents house and that's it. THAT'S IT!! Can you handle it?? And we didn't even have to be there until the afternoon either! Amazing!

It was a nice, quiet, dinner with his small family, and then hours later, Kenny and I snuck away to do a little shopping before the Black Friday mess started. It was the first (and maybe the only) holiday that I didn't have to drive somewhere, other than a mile. Talk about relaxing!

Since my parents are divorced, we usually have Thanksgiving with one side (this year it's dad's) and Christmas with the other side. I still see both of my parents for the holidays, just not always at big family parties. So Kenny and I got up early yesteday and went to my mom's house for an hour or so before going to my dad's for the big blowout. We had a great time with my mom. I forgot my camera when we were there though! She had way too many sweets to eat, but I was good, and had one teeny tiny cookie. That's it!

When we got to my dad and step-mom's house, it was already filled with my step-siblings, a new boyfriend (my step-sister's, and he fared WONDERFULLY during all the chaos), a couple neighbors, and a few of my step-mom's relatives, I guess they are my step-aunts and uncles? That'll work. Anyway, the house quickly filled up. My step-mom's family tradition is to have a chili cookoff the day after Thanksgiving because everyone is sick of turkey. The chili was awesome! And, of course, there were side dishes EVERYWHERE of delicious carbohydrates that I stayed away from, as much as it killed me. And I didn't even touch the desserts. Way to go.

When the rest of my aunts and uncles got there, along with my grandparents and a whole slew of cousins, the party got loud! It was so much fun. My family has not gotten together like this in a few years, and I miss these kinds of gatherings. In my dad's family there are 6 kids, 3 boys, 3 girls, just like the Brady Bunch. And just over a year ago, the youngest one, my Aunt Nano, passed away after battling cancer for 10 years. So last year around the holidays, it was pretty sad. And it felt like no one was really into celebrating much, at least from my perspective. So for everyone (minus a couple people) to be together yesteday, laughing and smiling and enjoying being together, was pretty special to me. I have years years of wonderful family gatherings, including my Aunt Nano, and she was the one who was always "playing" with the cousins. She is SO missed. I know most of us were thinking that we missed her yesterday. How can we not?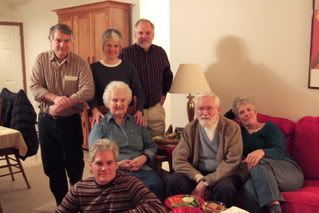 It's always so much fun being around my cousins. We always find ways to topple onto each other, whether it's on a couch or somewhere else. It just always happens, and I wouldn't trade it for the world!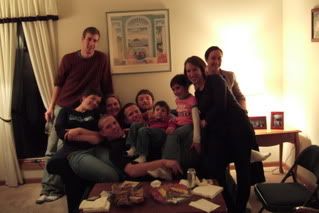 I had a great Thanksgiving. I got to see both of my families, and share Thanksgiving day with Kenny's family. I have SO much to be thankful for.
Oh, and one more thing. My step-sister told me that she reads my blog a lot. AND DOESN'T COMMENT!! So when you read this Miss Banana, COMMENT!! I'm putting a "shout out" to you and your new man (of 1 year, where have I been??)! So now you have to comment!
To see the pictures, click
here
.