What a scorcher is was here in Michigan today!! Hot hot hot! I left work early today to go to a baseball game.....
But not just any baseball game. My cousin T plays college baseball and is AWESOME. His team played in Michigan today, so I actually got to see him play!! It was the PERFECT baseball day. And his team smoked the opposing team. My cousin rocks!
Went I walked back to my car, this is what I saw: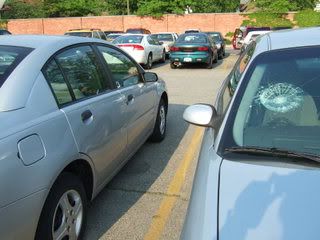 My car is on the left. 4 feet from the smashed window. My aunt told me to send this picture to my car insurance company and show them why I almost had to make a claim. 4 feet from that.