This weekend has been jam packed with fun-ness....new word!
After work on Friday we (my co-pilot, best friend, and co-worker) went down town because the weather was BEAUTIFUL! I can't even describe the mood I was in. Since February, life has been so fast paced and I feel as if I've been on overdrive. It was so nice to just relax and have fun outside, and it made it even better to have N's camera with us!!!

Here we are on our way to the river....
Then we walked down to the river and played like kids in the water fountains on the river walk. Across the river is Canada....home of
Redneckmommy
!
Friday the Tigers played, so of course I was planted in front of the TV for 3 hours watching them win! My mom came and stayed the weekend....our first overnight guest. Saturday we went shopping and then came home and started working outside, trying to get a jump start on the landscaping project we've created for ourselves when we bought this house. There are a BUNCH of bushes in the front of the house that I hate, and so they have to go. Now. So Kenny, my mom, and a neighbor helped us pull the first of 4 bushes out, using a chain and his truck ater trimming all the branches and digging some of the roots out. Check out the process:
And the results on the yard....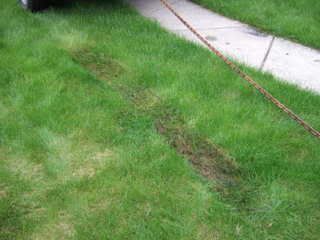 Kenny promsied me that it wouldn't kill the grass. Funny how when I mowed the lawn this morning that there was a nice strip of dead grass. Oh well, it was fun watching! And the best part is, we have 3 more bushes to go!
Good news.....my new camera will be here on Tuesday. I can't wait. Then I can stop begging Kenny & my mom for use of their cameras. My new one is the exact model of the one that was lost, so there won't be any I-have-to-figure-this-out time with it....just let me get my mitts on it!