Kenny got his wish....we got a puppy!! Here she is in all her puppy glory.....
Her name is BB and she's a sweety. Here she is on her make-shift bed until we get the real one....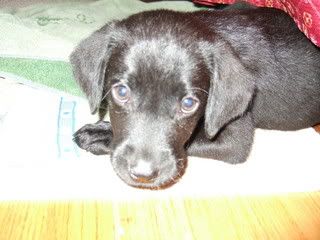 We played with her outside the night we brought her home...
And this is BB pouting because I was on the computer, NOT giving her attention.
She's already high maintenance. I keep telling Kenny that she's HIS dog....something tells me it will not be that way already. The good thing is that she can work with Kenny because he's always on the go and outside on the job. I'm hoping that works out! We also have a nice, fenced in backyard for her to play and run in and there are dogs behind us that she's already made buddies with.
Couldn't you just eat that face up?? She's so cute! I hope I still think that after she spends her first night NOT in my bed tonight. My fingers are crossed!