I have been one busy crafting person in the last week. I've made lots of things for the wedding!! First, the card box. Before I decided to make it myself, I checked out prices online and in stores. I spent maybe only $10 less making it myself, but it's WAAAAAY cuter (I'm biased) than the ones I've seen. I just can't do the bird cage thing! So I bought shimery red fabric and some white ribbon and paper mache boxes, and away I went. Here it is!!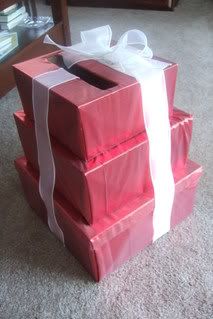 The flower girls will carry those kissing balls, and I did find then in stores and online for around $12 each, but I wanted them to have pink flowers and I didn't want the kissing balls to be teeny, so I bought pink hydrangeas (on sale at Joanns because they are spring floral), styrophome balls, (4 inch ones, but I ended up cutting them back to 3 inch), beaded garland (had it left over in my classroom) and floral pins and this is how I made them:
First stab the ball with a floral pin. Then fill the holes with hot glue and push the pin in, making sure you fasten the beaded garland between the pin and the ball so it will stay (the garland is what the kissing ball is held with). Then do that with the other floral pin, let them dry for about 2 minutes.
Take the hydrangea stalks.....
.....and cut all the stalks down so there's only about 2 inches of stem left. The longer then stem, the bigger the ball, the more flowers you will have to use. And believe me, I never thought it would take THIS MANY flowers to cover a 4 inch ball, which is why I cut back to 3 inches.
Then start pushing the stems in the styrophome. The trick to that is (ask me AFTER the ceremony how well it lasts...hehehe) to push the stem in quickly and don't move it around when it's in the styrophome. Leave it!! Here's the first one:
And then about halfway done:
And then all done!!! Look how pretty it is!!
I spent $30 total on 2 kissing balls. And I love them! I hope the little ladies will too! I'm not sure if they appreciate anything besides Hannah Montana these days.
And here is a picture of what the bridesmaids will carry....I haven't added red ribbon yet. Not sure if I will. I change my mind A LOT these days. Anyway, here are their white rose bouquets:
There are a few other things I'm working on, but I'll save that for another post!!