We put up our Christmas tree on November 25th, right after Thanksgiving. Usually Kenny makes me wait until December 1st, but this year, I just couldn't. It's too exciting!
So we put it up. And then last week half the lights went out. Damn those light strands where when one light goes out, half the strand goes out too. I took ALL the decorations off and put on new lights and the decorations went back on. All done, right? Wrong.
Tonight we were shopping at Tar*get, and Kenny had his eye on a HUGE tree that was on sale. We had already decided to buy a new one after Christmas because the one we have now is the one I used in college and it's only 3 1/2 feet tall, so have always put it up on a table or something to make it seem bigger. The tree Kenny was drooling over was 8 feet and gorgeous....very real looking, as real as fake can get. And it had pinecones too. Bonus.
So we bought it. And when we came home, we took the decorations off AGAIN, then the lights came off, then the little tree went back into its box and into the closet. We put the new tree together, added more lights, the decorations and wah-lah, we're good to go.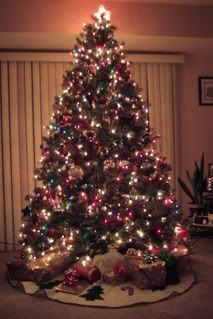 And the best thing about it is that I made a new Christmas tree skirt while I was sick this past weekend (I had nothing better to do while I was laying around). I made a pretty big one because I knew that we would have a bigger tree next year, and it looked silly under our old dinky tree, so we weren't going to use the skirt until next year. Well, now it's in use!
For anyone who is crafty, it's all felt, and I hand sewed the trees and candy canes on it, as well as the rope border. Nothing fancy, but it was fun to make.
So that is the saga of our Christmas tree this year. Again.