Well, I posted a to-do list (sort of) yesterday, and I can happily say that quite a few items can be crossed off. The biggest pain in the butt, the 40-page paper, is not done. However, I know it's going to take MUCH longer than 1 day to complete, especially since it's an action research paper and I actually have to present it (....groan.....) to my peers at work and then finish the paper. I'm thinking maybe in a week or so I can do that, and finish it, and hand it in, and pray to pass. Whoever decided that requiring a professional to do this kind of research WHILE reporting to work every day was crazy....stupid....idiotic....I could say much worse, but I won't.
I sat down last night after attending to my to-do list all day, and started in on the paper. I think I have a handle on it now. I was having some anxiety about just starting it, and that was keeping me completely UNMOTIVATED. Now that I've started it, I'm slowing becoming more motivated to work on it a little more, and also realizing that if I just do it, it can possibly get done so I can remove it from THE LIST of unfinished things.
The crack of dawn is when I woke up this morning, partly because SOMEONE had stolen all the covers and I didn't feel like trying to pry them from underneath his sleeping body, and partly because my body is so used to getting up that early. Either way, there was no more sleep to be had. I jumped on the computer and did about an hour of work, then decided to get coffee (the good kind that I can't make) and read the paper at the coffee shop across the street. How relaxing!!! I mixed hazelnut with frensh vanilla (someone suggested it) and it was yummy. Now I am waiting for a couple of stores to open so I can finish up the weekend errands and get back to this computer. That's the only reason I'm blogging today. I swear. I just want to let you all know how proud I am of myself for STARTING this bloody paper. Oh yeah, and to show you what my desk looked like this morning........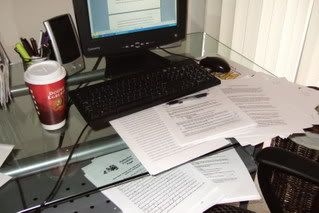 And also to show you the result of my retail therapy session yesterday.....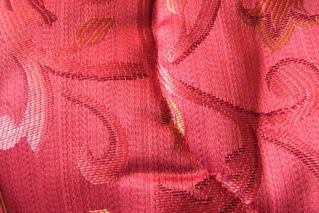 We are moving, so it's time for a new bedspread/sheets/sham/bed skirt combo. This is the comforter, and it looks a little bit more pinky in the picture than it really is, but it's soooooooooooo pretty. My tastes have really changed lately. I still love purples, but this deep red is my new favorite, at least this year. What do you think??