I am on the verge of complete relief. Any second now, I am going to get into my car (after bundling up because the weather is brutal around here), and drive the 1 mile to the post office.
I will then:
walk into the post office
address a priority mail envelope with mentor's info
place my 40 page thesis paper in the envelope
begine feeling small bouts of anxiety because all my work and time is going to be graded in a matter of days
force myself to seal the envelope and not look for any other things that I could possibly but needlessly change
go to the counter and request the envelope to be tracked so I don't get screwed
watch as the clerk stamps the envelope and tosses it emotionlessly into the outgoing mail tub
breathing rapidly, my legs will lead me back to my car where it's warm
put my head on the steering wheel and cry because it's done and I can't change one more thing, and I can't call my dad to have him edit it just one more time
drive home to Kenny and sit on the couch and think about all the things I COULD HAVE done before turning it in
This is what I think will happen. When I get the nerve to get dressed and make that 1 mile drive, I'll finish this post and you'll know what REALLY happens.
------------------------------------------
UPDATE
It's done. I mailed it! And I really did get the queasy tummy feeling, and I felt like I was going to puke as I handed over the envelope, but I did it, and it's done, and I'm home and OH SO HAPPY! I can't believe that I don't have to work on it anymore, that's how much it consumed my life EVERY DAY. What a feeling!
I called my dad on my way home from the post office to tell him. I think he was just as relieved as I was....no more phone calls asking him silly ridiculus questions about a comma or somthing. He probably feels just as good.
To change the subject BECAUSE I CAN NOW!! my flowers started drooping rather quickly, so I came up with a quick remedy for them. I thought because the roses were so heavy and still not fully bloomed, I needed to save them somehow from snapping off the top of the step. And this is what I did:
They look absolutely gorgeous! I had to play around with the camera too, so here's some more....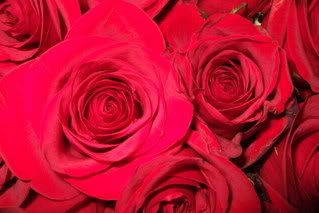 Scroll down for the Saturday Photo Hunt.