The last few days have been a blur. It's been a wierd week. With two snow days, I only worked 3 days, and one of them was a field trip, so really I was in the classroom two days. And it still feels like it's been a month since last weekend. Sometimes I feel like when I have time off, it makes me less productive at work. Does anyone else feel like that?

Today was the 100th day of school, which is a big deal for the little ones. It was a LONG DAY. Parties at school are wonderful for the kids, and a pain for teachers. I hate to complain about the kids' celebrations, but it is SO HARD to keep 20 kids focused on anything when there is food, juice, and sweets (ONLY on special occasions) in the room. And since our students wear uniforms, when they have free dress as they did today, things can get off the hook quickly. I kept them busy all day with 100s day centers all dealing with the number 100 somehow, but I feel like I worked 5 days in 8 hours. I'm pooped! When the last kid was gone today, I fell in my chair at my desk and put my head down and didn't move for 10 minutes. That felt great! I'm still dragging. But, I know my students had a good day, and I'm sure they will be yacking about it all weekend to whoever will listen. Here is a picture of them today with their 100th Day of School shirts on. You can probably tell that they colored the shirts themselves.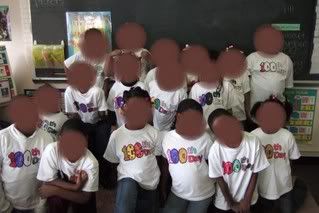 And here's the cake that another teacher made for our class. It's huge, but you can't really tell how big it was. And it was YUMMY. The cake itself was that rainbow chip.....hmmmm. Can you find the nibble marks I left? It was hard to be in the same room with that cake and not be tempted. I sound like one of my students now.....

Today is one of those days when I'm really thankful for the weekend. Just to be at home, inside where it's warm. Who cares if the place is a mess with boxes and all sorts of stuff? It's still home. And it's right where I'm happy to be right now.