I finally got to make cookies last night. I've been waiting and waiting for TIME to make them, and I finally got some!!
Ingredients: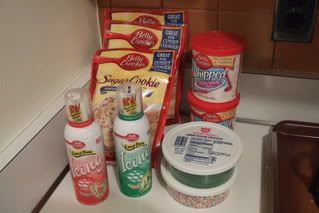 One Hungry Puppy:
Ready for baking:
Frosting:
More frosting:
And even more frosting:
Still, a hungry and extremely jealous puppy:
The finished products!!
We had fun. And made a mess that took me over an hour to clean up. Which is EXACTLY why I don't bake/cook too often. When you go out to eat someone takes care of that for you! But it was a festive thing to do and Kenny enjoyed himself too, especially the making-a-mess-and-not-cleaning-it-up part. He's REAL good at that!! But I love him anyway.
It's Christmas Eve and I have just a few things to do, mostly help Kenny finish his wrapping. He ALWAYS waits till the last minute. I don't really care what I have to do today because it's Christmas Eve and I just have this smile pasted on my face. I'm so happy! I feel like a kid again. Not because there are presents tomorrow morning, but because I am so blessed to have what I have, and health too.
Merry Christmas to all my blogging friends and all my friend-friends who read and sometimes comment (Melissa) and those who never comment but I know you read (Momma B). And Happy Hannakuh to Marissa!!
Here's one big blogger hug!
((((((((((HHHHHHHHHUUUUUUUUUUUUUUGGGGGGGGGGG)))))))))
-------------------------------------
Here's a quick meme I found on Tee's site and since I have time right now I'm playing along too, in honor of wrapping up 2007 in a week. I noticed though that there are several missing numbers....I promise I DID NOT delete them. When I copied and pasted the meme from Tee, they were missing. Ooops. Not sure what happened! Oh well.
[1.] Where was the first time you ever kissed the last person you kissed? In the living room of my first post-college apartment (probably less than 500 square feet, an upper flat, the bathroom ceiling was so slanted that you had to duck in the shower, but I loved it because it was the first apartment that was ALL MINE).
[2.] What's the greatest thing that happened to you today? I woke up listening to Kenny's gentle snores.
3.] How many TRUE best friends do you have?About 5...I think I'm pretty darn lucky!
[4.] Would you rather get up early or sleep in? I LOVE sleeping in, but I truly feel better getting up early (not for work though) because I feel like I'm getting bonus hours in the day!
[5.] Tell me about the shirt you're wearing? Kenny's maroon Hard Rock Cafe sweatshirt that I sleep in as often as it gets washed.
[7.] What would you change about your life right now? Not one thing:)
[8.] Would you rather smile over a lie or cry over the truth? Cry over the truth.
[9.] What's on your bedroom floor right now? A couple of rugs and my wedding planner.
[10.] Who's the last person you got into a argument with? Probably Kenny.
[11.] Do you trust people? The ones that are trustworthy.
[12.] If you could move away, no questions asked, where would you move? Take Kenny and go to my parents' homes.
[13.] My favorite number? 6 (Al Kaline's number)
[14.] Could you go a day without eating? Could I? Yes. Will I? No.
[15.] How much do looks matter to you in a guy/girl? Not much.
[16.] Do you like anybody right now? Of course!
[17.] When was the last time you had your hair cut? October.....every 3 months.
[18.] Would you rather be mad or sad? Mad because there's a definitive reason and it feels better than sad when it's over.
[19.] Does it take a lot to make you cry? I am a female...NO!
[20.] Whats the best feeling in the world? There's a tie...laying my head on Kenny's chest AND being with my parents in my home town.
[21.] Are you close with your mom? Absolutley.
[22.] Are your parents strict? They weren't when I was a kid.
[23.] Do you tell your parents everything? Sometimes.
[26.] If you need to go to the store a block away, do you walk or drive? If I have to get groceries, drive, if I'm dropping off something, I walk WITH the puppy.
[27.] Does the thought of marriage scare you? No....I'll be married in 4 months and 2 days!!
[28.] How many kids do you want? 2 or 3, but once I have 1 I'm sure I'll change my mind.
[30.] Who was the last person in your bedroom? The dog. Kenny sleeps on HIS couch almost every night.

[31.] What are you doing today? Wrapping presents for my procrastinating fiance and then going to church service tonight. It's my favorite service of the year.
[32.] Would you rather be rich & sad or poor & happy? I am poor and happy (kidding) but seriously, I'd rather be poor and happy. I wouldn't trade happiness for anything. Although, money does bring about a rather happy mood.....
[35.] Do you get bored easily? NEVER. There's too many crafty things around my house to do.
[36.] What's something that someone can do that really bothers you? Takes WAY TOO LONG at the counter buying something knowing full well that there is someone behind them WAITING, and still not caring and going on and on about something that's complete BS and OOOHHHHH that makes me mad!!

[37.] Did you ever want to change your name when you were younger? Yes. I think everyone does.
[38.] Do you wish you were famous? Only because I would have more money, but I still wouldn't trade my life for more money. NEVER.
[39.] Do you make a wish at 11:11? No-never even heard of that.
[40.] When you go to the beach do you swim or lay out more? Lay out for that tan!
[41.] Who's the last text message you received from and what did it say? Leaving at 600? from my co-pilot/best friend N.
[42.] What are you freakishly obsessed with? Cleaning. But it's not working well with a dog and a man. After I typed that I had to laugh.
[43.] What's your favorite song at the moment? Anything Aerosmith, all the time.
[44.] Do you like going to the mall to shop or just shopping online? I used to love the mall, but now I LOVE online and just like the mall.
[45.] Can music affect your mood? YES!
[46.] What piercings do you want? I have my ears, I HAD my tongue pierced (a weak moment in college that lasted for about 3 years) and that's enough!
[48.] Have you ever been in a cave? NO!
[49.] Ever eaten a bug? I'm sure I have in my sleep. Ew.
[50.] When will you hang out with the person you last kissed next? Today, for most of the day when he finishes up shopping:)