OKAY!!!
I need some help here! Centerpieces. Oh yeah, if you are sick of wedding talk, don't read this post. It's all about centerpieces at the reception.
Here are the details. The hall is providing us with white linen tableclothes, and red linen napkins, the color of the bridesmaid dresses and some of the flowers. They are also providing us a large square mirror as the centerpiece base, and 3 glass cylinders per table, ranging in sizes from 10 inches to 14 inches tall, and all of them are about 3 inches in diameter. Still with me?? So here's what I've narrowed it down to..............keep in mind there will be 3 of these, all slightly different sizes, on each table, along with small votives. Can you tell I want tons of candles?? The candlelight is my favorite.
Red rose petals & red candle:
Red rose petals and white candle:
Red ribbon & red candle: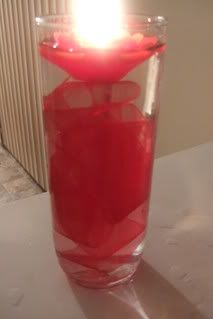 Red ribbon & white candle:
I have also seen photos of fruit in the bottom which add lots of color, however, much more expensive. We are having 25 tables at the reception and are going to do about 15 of them with the cylinders. The other tables will have rose & hydranga arrangements in the center with votives around that. I'm open to ANY suggestions at this point. I realize it's hard to imagine this looking elegant, I did the best with the pictures that I could. Looking at them now, I didn't put in enough water. Use your imagination!
This is a picture of what the 3 of them will look like, just imagine my flowers/ribbon and colors: