Ahhhh....it started today. Summer school. It's more like summer tutoring. But it sure pays well and it's only 2 days a week, 3 hours per day. And it's easy and actually fun! Plus I usually get to know a few students that I will have in the fall as well as a few students I have already had in class, so it's a good time. And did I mention the money is awesome? Well, it is. It didn't even bother me that I had to get up early. I'm used to sleeping in a little bit, but truthfully, I'm still up and coffeed and ready for the day before 8am. It's just in my blood.


Here are a couple pics from the backyard, the parts that are finished: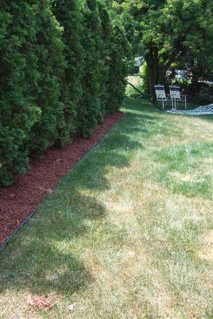 I just added mulch to this awesome line of privacy trees...they are so low maintenance! You can see the garage sale chairs Kenny picked up for us and the hammock too. I can't wait to use it!
The lillies that were already planted when we moved here...I love their color!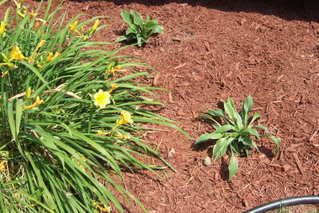 More lillies and the new baby hostas I planted, suggested by Lori!
To see what this area looked like before, go back to
this post
and look towards the bottom for the pictures.

There is still a small ugly old deck to rip out, but first I have to remove all the rocks from around it. Talk about tedious work. We're keeping the rocks and going to use them eventually around the patio that we'll have poured to replace the deck....one day anyway. I'm thinking that's going to be next summer at this point! Kenny's head has spun around twice since I mentioned the patio. His exact words..."You're never happy! We just finished this huge landscaping project and all I want to do is enjoy it and you're already on to the next topic of complaining! Give it a rest woman!" I can't help it. I'm a do-er. I just do. Everything. And all the time too. I never ever stop. I guess that's why I'm a teacher, because there's always something that needs "done."


Anyway, look at these lillies in our backyard:
They need something....see how they are slightly matted in the front?? Okay all you plant bloggers....what do I do with that? I love these lillies, and I want them to be there for many years, so how do I get rid of the matted look??